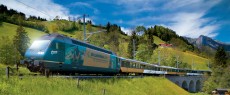 Golden Pass Line–Train and Hotel Package
Zürich–Lucerne–Interlaken–Jungfraujoch–Montreux–Geneva
The Golden Pass Line is one of the most picturesque panoramic trains in Switzerland. It links Lucerne situated at the scenic lake which bears its name, in the historic heart of Switzerland with Lake Geneva with the famous city of Montreux at the so called Riviera, a relatively mild climate with even palm trees. Both, Luzern and Montreux have convenient direct train connections to Zurich and Geneva and their airports.
The central highlight of the route is Interlaken in the heart of the Bernese Oberland with the famous mountain peaks Eiger, Mönch und Jungfrau. From here the Jungfraujoch - Top of Europe can be visited. This tour shows you Switzerland at its best with historic cities, great landscapes and passing 8 scenic lakes! You get to see the glacier covered peaks and visit the highest railway in Europe.
Click here to download our brochure
Ask for details...
Zygos Travel Austria
Salurner Strasse 1 A - 6020 Innsbruck
Phone/Fax: +43 512 583 611
Mobile: +43 664 7389 1961
Email: joanna@zygostravel.at
Web: www.zygostravel.at